Nel's shares are listed on the Oslo Stock Exchange under the ticker "NEL".
The company seeks to create sustained shareholder value. The Board of Directors emphasizes communicating and maintaining good relationships with shareholders through financial reports, press releases and presentations. The company has one class of shares. Nel has not yet reached the stage when it can pay dividends from ongoing earnings.
Nel's Board of Directors has adopted corporate governance principles aimed at ensuring that the board remains informed and independent. The Board of Directors is elected by the share owners to oversee management and to assure that the long-term interests of the share owners are being served.
| | |
| --- | --- |
| ISIN | |
| Org. number | 979 938 799 |
| Ticker | |
| Exchange | |
| Round lot | |
| Nominal value | |
| Shares outstanding | |
| Market cap | |
Last 10 trades
Share performance
Historical profit
©2021 Euronext N.V. All Rights Reserved. The information, data, analysis and Information contained herein (i) include the proprietary information of Euronext and its content providers, (ii) may not be copied or further disseminated, by any media whatsoever, except as specifically authorized by Euronext, (iii) do not constitute investment advice, (iv) are provided solely for informational purposes and (v) are not warranted to be complete, accurate or timely.
Before the publication of Nel ASA's 2Q results on 19 August 2021, we invited the sell-side analysts to provide input to the consensus estimates.
Latest reports and presentations
21.01.2021 – Capital Markets Day
18.02.2021 – Quarterly Report – Q4 2020
25.03.2021 – Annual Report 2020
15.04.2021 – Annual General Meeting
04.05.2021 – Quarterly Report – Q1 2021
19.08.2021 – Half-yearly Report 2021
21.10.2021 – Quarterly Report – Q3 2021
Investor relations information
As part of the ambitions of equal treatment of all shareholder and transparent communications, Nel has imposed a silent period in the two weeks prior to the reporting of quarterly financial figures. In the silent period, the management will not engage in investor-dialogue and -meetings.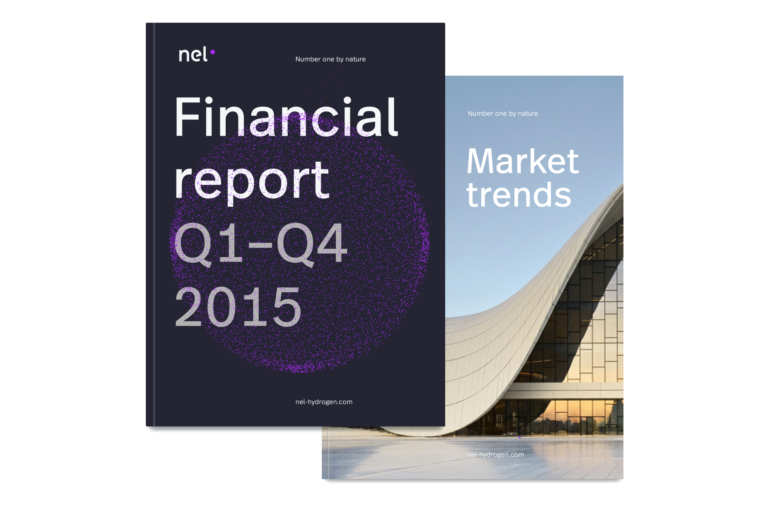 Get press releases via e-mail
To be added to our distribution list for future Nel ASA press releases, please fill out the form below.